SCA Name: Volchekh Karsakov
OP Link: https://op.atenveldt.org/people/profile/4700
What is your Current position in the SCA?
I am the siting Baron of Twin Moons. My job is to ensure that members feel empowered to grow the skills they find meaningful. 
What are your highest level awards you have received and what is your preferred honorific?
Order of Chivalry, Sir Volchekh
When was this spotlight filled out?
3/7/2022
What is the Blazon for your heraldry?
Gules, a tower argent and a bordure wavy Or.
How did you find the SCA?
I was trying to find a club to join when I moved down to Tucson for college. On the long list of clubs I saw the College of St. Felix with the tagline "Do you want to learn to sword fight?" I did, in fact, want to learn to sword fight.
What was your first event?
I mostly stayed at the St. Felix fighter practices for the first 3 months or so. My first Kingdom event was the now discontinued Southern War in 2010.
Pictured to the Left:
One of my first courts as Baron- Defenders 2022
Where have you played in the SCA?
I played in Tir Ysgithr for 7 years and have been playing with Twin Moons since 2017.
What is your favorite SCA memory?
After being confined to St. Felix's practice for several months, I had an inaccurate idea of what a great fight looked like. I saw the same knight with his squire each week and thought that I had a good idea of what this hardsuit thing was about. However, one night another knight showed up to prepare for a Crown Tournament. I will never forget the first time I saw two Kingdom level fighters spar for the first time. 
What is your persona?
Rus Viking

Pictured to the Right:
Leather goods I crafted with my own hands
What is your biggest passion in the SCA?
I greatly enjoy hitting my closest friends with sticks and sharing that joy with others.
What goals do you have within the SCA?
My current goal is to increase the interaction between the different subsections of the Barony. I would like the fighters, artists, archers, service members and all others to have the opportunity to spend more time in each other's company.
What skill do you want to learn in the SCA?
I would like to try more metalwork. I worked on a casting project a few months ago and discovered another art that I enjoy.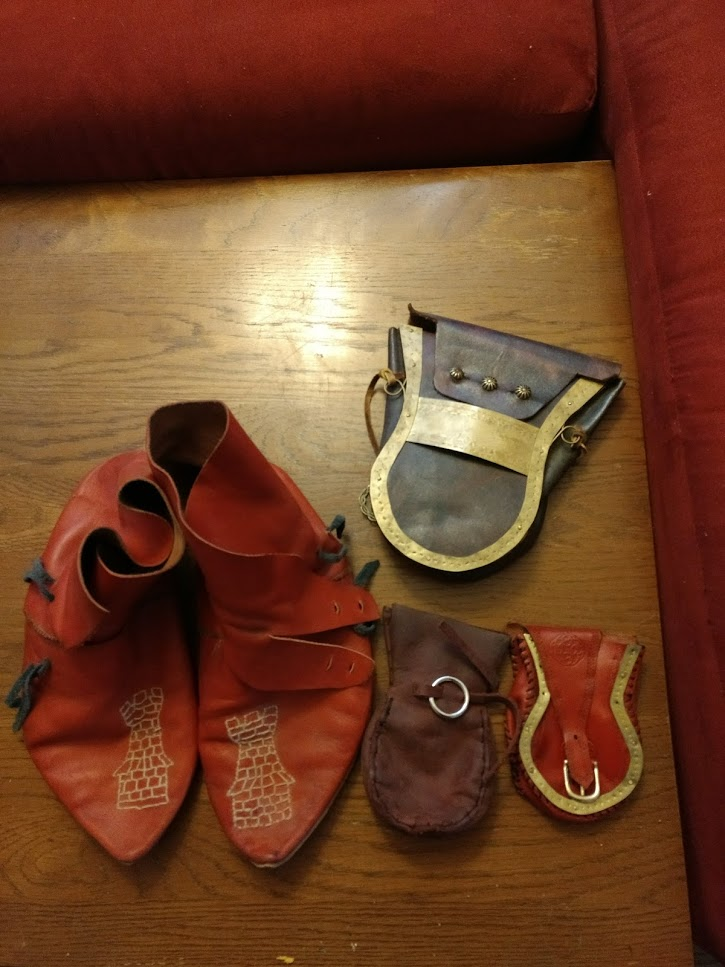 Pictured to the Left:
One of our first photos as the new Baron and Baroness of Twin Moons
If you could attend your "dream" SCA event, what would it look like? Theme, tournament, feast, Share with us the details please.
My dream SCA event would be a massive war. The kind of war where hundreds of people come from out of Kingdom to attend. The morning would consist of melees where trained units from different baronies clash in an open field.  The afternoon would see those same baronies compete in a mixed weapon 5 on 5 tournament.  The evening would be a stroll through merchants where I spent an unwise amount of coin on the creations of the populace.  The night would be around a fire with a constant rotation of songs and stories.  At midnight, plates of bacon would be passed around the fire.
Pictured to the Right:
Sending arrows downrange at archery Champion Tourney 2022
If you could wake up with an SCA talent you do not already have, what would it be?
Illumination and calligraphy. Scrolls become scadians' prized possessions that they keep for a lifetime. 
What advice would you give a new SCA person?
Everyone here has things that they want to learn and everyone here has something that they would like to teach you.
What keeps you in the SCA?
The novelty.  I thoroughly enjoy trying new things and meeting new people.  Over the last 12 years I have run out of neither.