His Majesty Alverik Czypser (he/him) &
Her Majesty Mineko of Monster Hall (she/her)
King and Queen of Atenveldt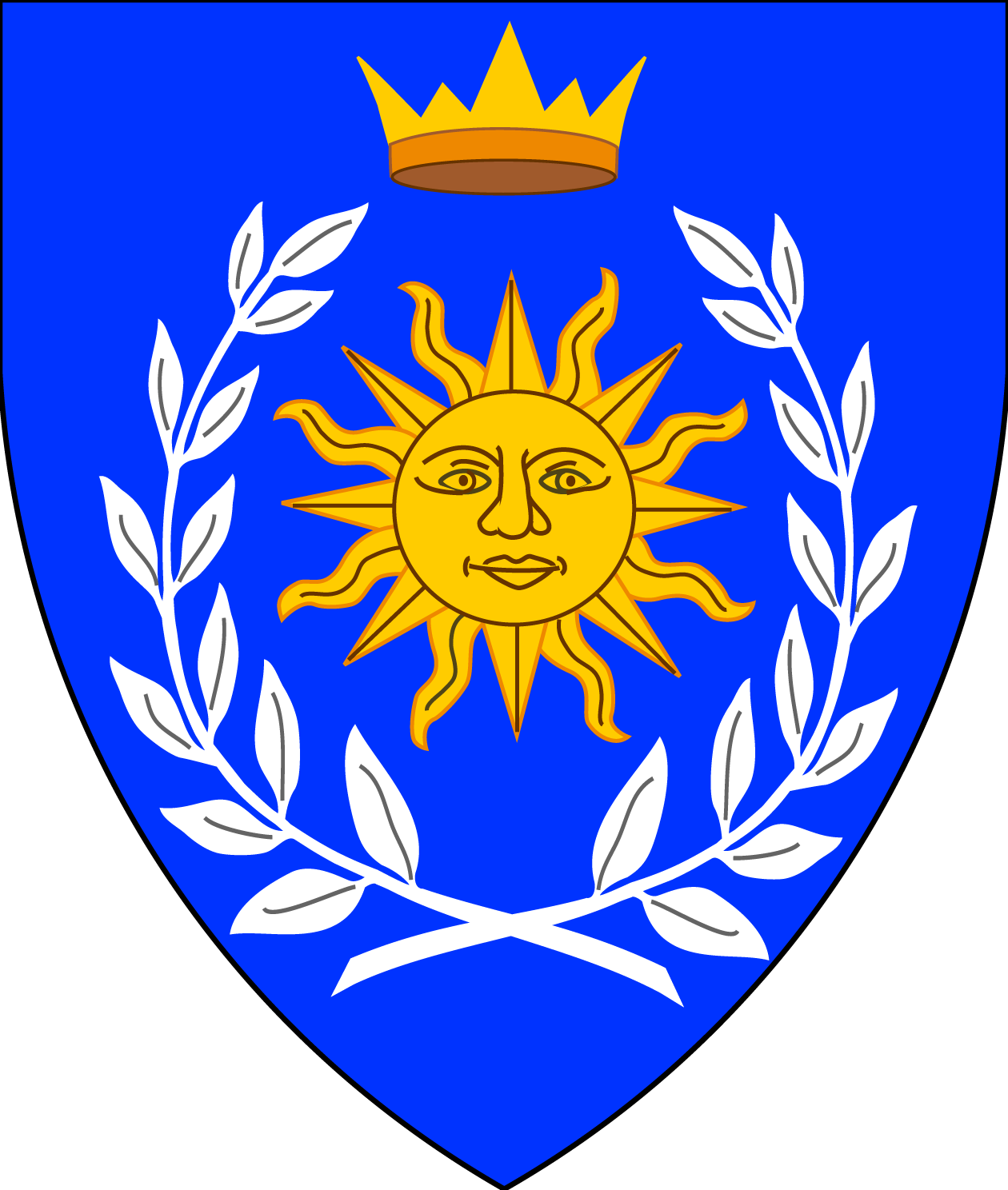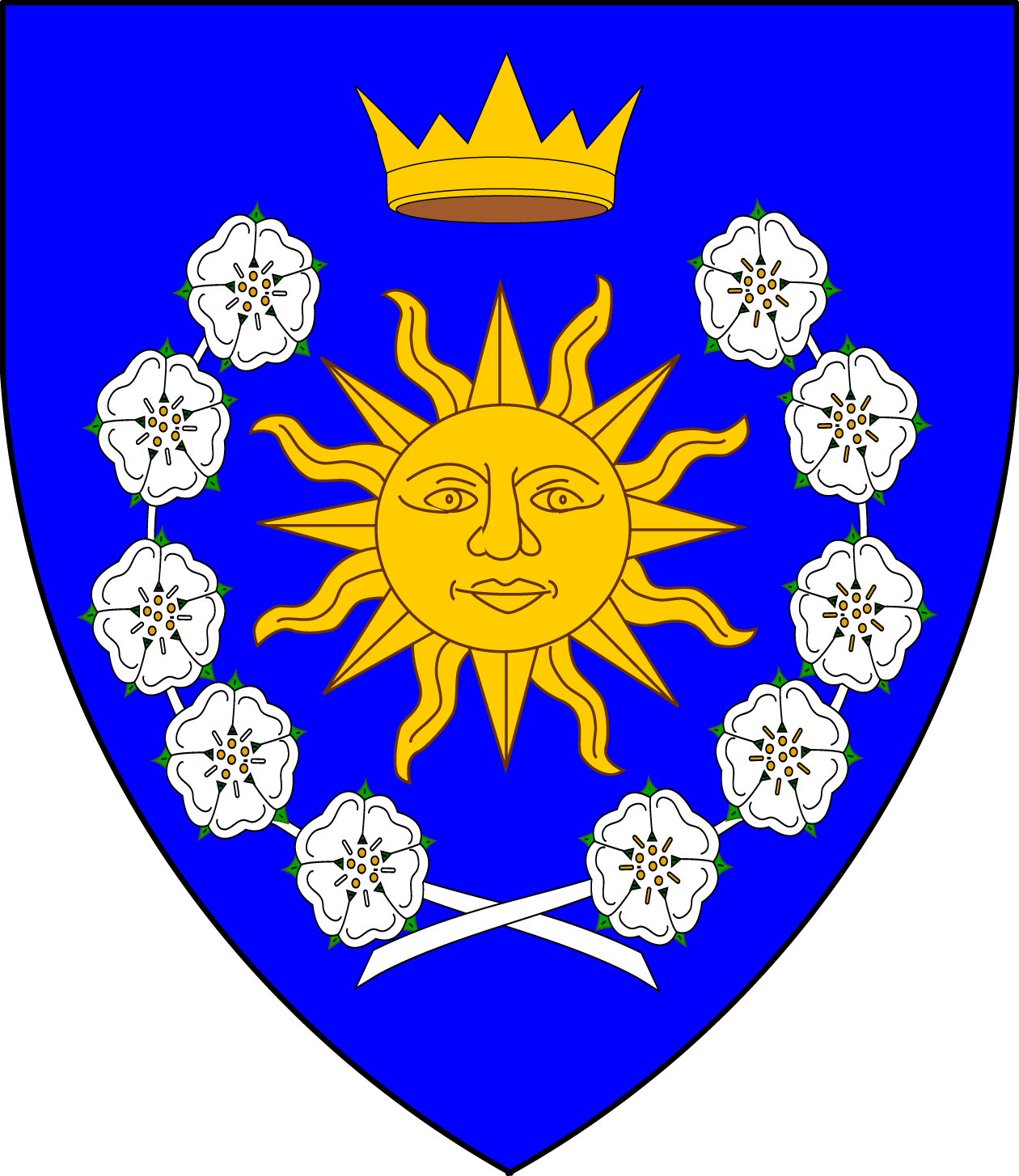 Crown: January 25, 2020 (Tir Ysgithr, AZ)
Stepping Down: 04/16/2022
Greetings,
We bid you warm welcome to the Kingdom of Atenveldt! His Majesty has great interests in all manner of Fighting, Archery, Metal Work and Shoe Making. Her Majesty finds Herself on the Heavy Fields, crafting Pottery, and sometimes creating Garb & Accessories with friends. No matter what your interests in Pre-17th Century arts and life, We would love to share and learn together! We would encourage you to try all the things! Join us on the thrown weapons range, archery practice, wherever we may be. We are very much looking forward to seeing you across the Kingdom as we have long waited to do. Who knew the adventure of winning Crown Tournament could be two and a half years? Whatever brings you here to read this missive, We hope you are hale, hearty and healthy. If you have further need of Us or questions unanswered, please email Us: [email protected]
Sincerely,
Czypser & Mineko
Basiléus    Basilissa
Royal Progress
Below you will find a list of events their Royal Majesties will be in attendance at.
2020 Progress
2020
February 18-24, Estrella War
March 7 – Great Helm
In March 2020 Atenveldt and the SCA cancelled all events and group activities to comply with health mandates and assist in preventing prevent the spread of the Corona Virus during the worldwide pandemic.
May 9: 1st "Virtual Court" (Multi-Kingdom – held on the Internet)
June 13: 2nd "Virtual Court" (Multi-Kingdom- held on the internet)
July 25: 3rd "Virtual Court" (Multi-Kingdom- held on the internet)
AUGUST 29: Atenveldt Ethereal Court  (Multi-Kingdom – held on the Internet)
October 10: Atenveldt Ethereal Court (Multi-Kingdom – held on the Internet)
November 21st- Atenveldt Ethereal Court (Multi-Kingdom – held on the Internet)
JANUARY 2, 2021- Atenveldt Ethereal Court (Multi-Kingdom – held on the Internet)
JANUARY 16, 2021- Atenveldt 50 year Virtual Event.
 SCA activities resumed in July 2021 in the Kingdom of Atenveldt.
2021 Progress
2021
 Day in the Park Events
7/17 BGM – TRM & TRH
7/31 BTM – TRM & TRH
8/14 BES – TRM
8/28 BMMT – TRH
8/28 BTM – TRM
9/11 BTY – TRM & TRH
9/25 SOW – TRH
8/25 BSD – TRM
October 6-11, 2021 – Great Western War, Caid
October 16, 2021 – Barony of Atenveldt Investiture
October 23 & 24, Coronation
2022 Progress
December 17-18 – al-Barran Midwinter & War Practice

January 8, 2022 – An Tir 12th Night

January 15, 2022 – Outlands Coronation

January 22-23, 2022 – Atenveldt Crown Tournament/Warlords

February 18-23, 2022 – Border War (Tri-Baronial War) (BSD, BTY, BOA)

March 10-13, 2022 – Great Helm (BTY) – Q

         Artemisia Coronation – K

March 15-20, 2022 – Gulf Wars

April 16-17, 2022 – Coronation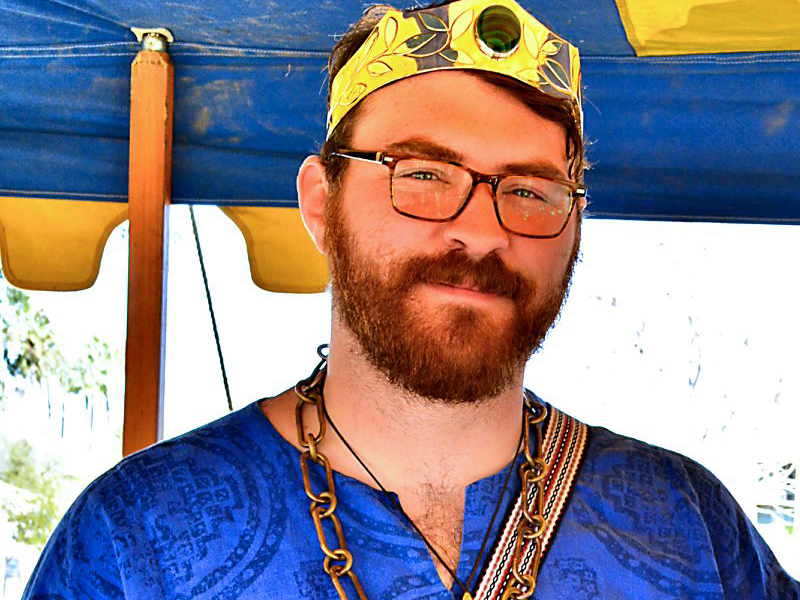 Czypser
Drinks: water, lemonade, sugar free drinks, froofy cocktails, cider

Food: Mac n' Cheese, Quesadillas, meat, cheese, Chicken Nuggets with Ranch 

Gifts/Largess: handmade preferred, unscented, Greek persona items, hand crafted tools

Persona: 350-300 BC Greek/Thracian in the time of Alexander the Great

Colors: Red, Black, White, Earth tones

Likes: happy people, kindness & Malort

Dislikes: Malort, beer & wine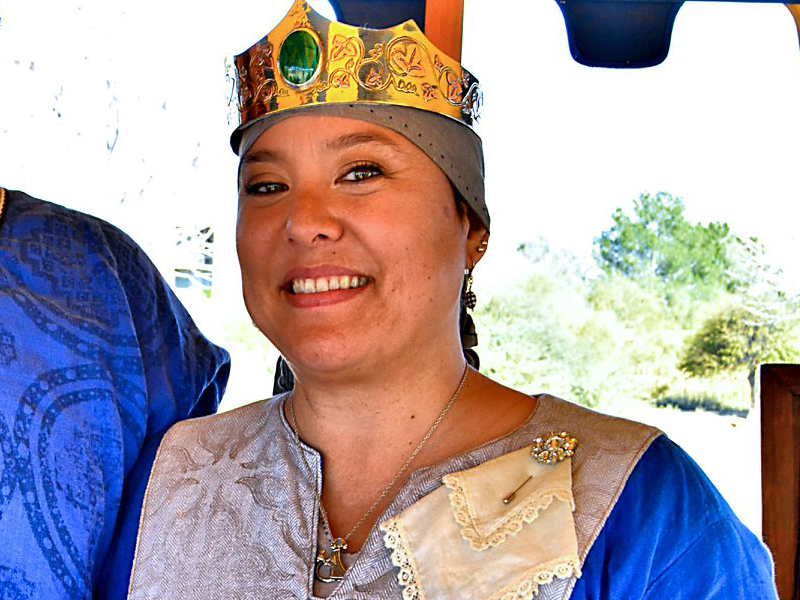 Mineko
Drinks: coffee with cream and honey or sweetener (any flavor except hazelnut), unsweet tea, sugar free drinks, gin cocktails (prefers botanical over juniper), grapefruit juice

Food: Cured meat, cheese, snacks, pasty/meat pies, spicy, I am a noodle Asian

Gifts/Largess: handmade preferred, unscented, handcrafted, functional items for garb  

Persona: does not have a time period committed persona, loves clothes and dresses for the weather

Colors: Orange, Grey, Jewel tones, Earth tones 

Likes: Loud laughter, big smiles, parties

Dislikes: the scent of Vanilla, olives, common mushrooms, raw onions, beer, wine & vodka
Chamberlain
Duke Areus of Sparta (he/him)
Queens RAPIER CHAMPION
HL Richard Attekirck the Rabbit (he/him)
PRIVY SECRETARY
HE Candice Vander Libel (she/her)
CROWN HERALD
Sir Valora tou Aviva (she/her)
Sir Nikita (he/him)
CUT AND THRUST CHAMPION
Master Heinrich von Loescher
GARB COORDINATOR
Countess Gilliana (she/her)
Countess Dionisiya (she/her)
LARGESS COORDINATORS
Mistress Finola Sutherland (she/her)
Mistress Shoshanna Drakere (she/her)
Lady Rós inghean Uí Ghallchobhair (she/her)
Premier Thrown Weapons Champion
Gifts and Largesse
We are very blessed to have a prosperous and hard working Kingdom with so many volunteers among Our Populace, and We can think of no better way to thank deserving individuals for their efforts than with handmade gifts.
As We attend events within the Kingdom  We would like to showcase our talented artisans to the Populace by giving out  handmade gifts.  In addition We are traveling to large events outside the Kingdom along with the pleasure of investing new Barons and Baronesses in Our Lands, so we are always in great need of largesse.
To that end, to create suitable gifts, We would ask that they meet some of the following criteria:
Be labeled with a description and your name
Be durable and unaffected by heat
Be suitable to present to the Populace of Atenveldt, including investiture of Sundragon
Be suitable to present to Crowns and Coronets of foreign lands
Be small enough to pack and to go on a plane. This also applies to gift containers.
Make multiples of the same item so that foreign Crowns may then gift them to their populace.
NOTE: Scented items must include an ingredients list and be packaged in sealed ziplock bags. This will allow us to screen for allergies, prevent cross contamination of items, and maintain the condition of the largess.